About twenty years ago Caritas Machakos built a small house where disabled students who lived too far away from the school could stay during the term. It was called "The Small Home" and the school where it is placed is Kaloleni Primary School, in Machakos County, Kenya, where nowadays our partner Mrs. Lucy Nderitu Waweru is Headmistress.
In this last two years that "small home" has needed to be restored, new toilets had to be built, new tools must be bought and the two ladies in charge of it and of the teenagers had to be paid in the periods during the which Public Institutions couldn't provide for it.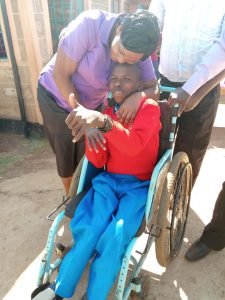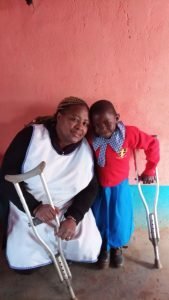 Liquid handsoap making 
Restoration pictures:
Moreover in 2019 there were many problems with water supply, so Mrs. Waweru contacted a local NGO called "Drilling for life" of Thika (Kenya), which was ready to pay the expenses for borehole water provision, but asked the school to pay for the Hydrogeological survey (110.000 Kenyan shillings).
So this has been our effort: to be next to these students and this school in all these needs.
Budget:
August 2018: 700 euros = 77.415 kenyan shillings (six months salaries of one of the workers and purchase of firewood, food and soap)
September 2019: 600 euros = 64.386 kenyan shillings (a share of the Hydrogeological survey expenses)
December 2019: 430 euros = 45.758 kenyan shillings (a share of three months salaries of two of the workers)
August 2020: 700 euros = 84.619 kenyan shillings ("small home" renovation)                                                                                                                                                   
Please contact us for further details.